Syn
Data, Microinteraction, Sound
Syn - empowering patients with epilepsy
DETAILS
Course
Industrial Sound Design
Duration
2 weeks, Spring 2018, Umeå Institute of Design
Team
Thomas Müller (Germany), Martina Eriksson (Sweden), Julian loretz (Austria)
My Contribution
Research, Structure design, Audio-visual interaction, Wireframing, Microinteractions
Introduction
What if you need to plan every single day because of unprovoked seizure. If you have ever been diagnosed with epilepsy you may need some time to come to term with it. Living with epilepsy is more than getting alerts, as it can be difficult to adjust to changes such as losing your driving license, get forced to change job or limits your way of chasing your dreams.
Concept
Syn is a pre-seizure alert system designed to inform a person with epilepsy before a seizure to reduce injuries and enhance their life quality. It uses quality of sound as a major feedback.
Epilepsy may be congenital to the person or may occur as a result of injury. In epilepsy, some of the brain's nerve cells are overactive, which can cause different types of seizures. The seizures can occur from one or two seizures throughout their lives, to several attacks every day.
Approximately 1 in 26 People in the United States Will Develop Epilepsy at Some Point in their Lifetime
Reference: Epilepsy Foundation, Epilepsy Association in Västerbotten County, Sweden
Concept
The sheer complexity of epileptic seizure is dealt with the quality of sound and a simple microinteraction. Over a period of time, the user learns to recognize the seizure sound quality and be prepared for it.
A functional microinteractions: The brainwave visual feedback visualized as vibration of the strings in the circle, mapped to the frequency data of the brain activity. With the sound muted the user can still get a visual feedback on how close he/she is to the seizure
Synpad
Attach the SYN PAD to the focal epilepsy spot on you scalp.
SYNAPP
Connect the SYN PAD to your SYN APP on smart phone/watch to get pre-seizure warning.
SYN ecoSYSTEM
Keep your loved ones assured and the hospital alert in case of emergency.
How it works
A wearable EEG collecting and transmitting brain patterns associated with seizures across various stages. It consists of electrodes to collect and a transmitter to transmit accurate brain wave information. The information flow is shown below-
Syn app
All the data from the SYN tracker is transferred to the app where the user can get a more detailed overview and control over their seizure data
Syn product ecosystem
The SYN system connects the user, hospital and loved ones and prepare for any critical seizure condition. Thus, it changes the current epilepsy treatment from to a patient-centered healthcare.
Overview
During the two weeks of intensive sound design course, we had to take quick decisions with limited information and time. The collaboration worked seamless between the Product Designers and Interaction Designers because of effective communication, strict schedule, and good team bonding.
Neuro Research
We went to neurology departmet to understand the challenges and opportunities regarding epilepsy and get a medical knowledge on EEG, We visited Antonio (Biomedical analyst) and Elin (Neurological nurse). We learned that the abnormal brainwave EEG signal could be interpreted long before the seizure actually occurs.
User Research
One of the challenge was to get in touch with the users who are diagnosed with epilepsy. We contacted, from the left Epilepsy Association in Västerbotten County, Sweden and looked into epilepsy foundation website and conducted user interviews via phone with the patients. We analysed our field and desk research, empathized with the patients, and defined our usergroup as a young adult. The technologies that we found today are mainly, EDA (Electrodermal activity) (low accuracy + wearable) and EEG (Electroencephalography) (High accuracy + heavily wired). We decided to go ahead with an EEG that a patient can wear on the head.
GLOBAL
An estimated 65 million people worldwide currently live with epilepsy.
PHYSICAL
1/3 of patients continue to have seizures despite medication. Unpredictability due to fall injuries.
Psychological
Anxiety due to seizure without behavioral cues. Social isolation and embarrassment. Broken dreams
We tested the sound quality with our tutor Andreas and group of 8 students from UID, the sound was iterated along the way to design polyphonic quality in the range between alarm + brainwave.
Even though these patterns are individual to patients, the quality of sound is what defines the seizure stage.
Once we created the brainwave we then moved on to create other notification sounds from the same palette using a tool called soundboard
UI and Microinteraction
We designed an interactive InVison app focusing on two main function i.e. seizure diary and notifying relative. The screens are- (From left 1. Home screen, 2. Location screen to the relatives 3. Seizure dairy 4. side bar menu 5. Detail view of selected seizure).
Form Sketch
In collaboration with two product designers, we jointly decided on form factor other than a stigmatizing medical product. The form was iterated and tested on users to fine tune the final design. Unlike medical products, we focused on user's emotional need as a personal wearable.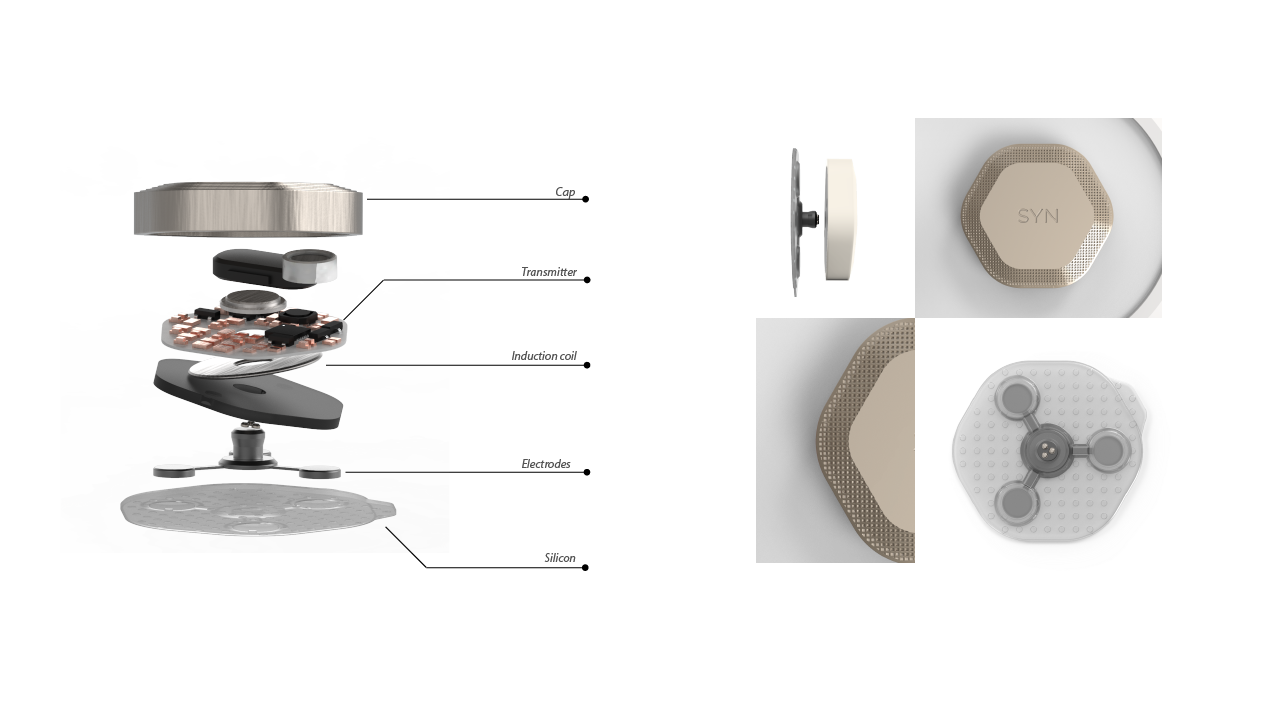 Final thoughts and Role in the team
While designing the SYN APP, I realized how valuable it is to get a perspective on one design decisions from the other background. It takes a lot of effort to create a unique visual identity that is consistent across sound, product form, application, microinteractions, design material. Although, most of "the research was collaborative and decisions were democratic". I was solely responsible for the market/tech. research, SYN application design, feedback notifications and audio-visual motion graphics used through out the product family and presentation material. During the process, I quickly learned sound design tools like massive and adobe audition worked with After effects form creating all the animated interactions. The sprint project turned out be a rewarding experience.