Tinkreta
Automata, Frugal Innovation, Toy Design
Tinkreta- A ten cents four piece toy
DETAILS
Course
Special Studies in Design
Team
Ekta S. Surender(India)
Duration
2 weeks, Fall 2015, IIT Kanpur
Project Guide
Koumudi Patil, Sudarshan Khana (Inspiration)
Introduction
I got interested in the process of making toys couple of years of back. I looked into many toys that were intriguing, innovative, and popular at that point. But there is something ingenious about this idea "learning more from less". Generally when a plastic toy is broken, its hard to fix. But when a toy that is simple and made up of material from environment is broken, its the starting point of a new era of exploration as you can mend it or recreate it from memory.
Concept
A modular tinkering tool made of only four piece of bamboo sticks, aimed to start designing mechanisms and structures based on the theme of simulating the movements of endangered animals and thus creating awareness and empathy towards the natural world.

Problem with toy kits in India
Flexibility
Lack of flexible parts, and its tinkering ability Induce a fear of unknown.
Mechanized
Do not nurture interest of a child towards environment, nature, wildlife.
JugaAd(जुगाड़)
Toys cant be mended once broken which reduces its Jugaad ability of children.
Surrounding
Parts can not be integrated with the other objects around a child e.g. cardboard, sticks etc.
Develop spatial awareness and Mechanical reasoning
Sustainable material and manufacturing
Invention, exploration, creativity
Improve STEM learning in children
Phase 1 : 2D
Paper Prototyping
Can we tinker with triangles to arrive at various tinkreta forms? We started with a basic paper prototyping of Tangram shapes to arrive at various forms.
code prototyping
I wrote a short script that allows audience to play with the tangram pieces together to create representation of animals, birds and other forms.
Phase 2 : 3D
Inspiration from Frugal prototyping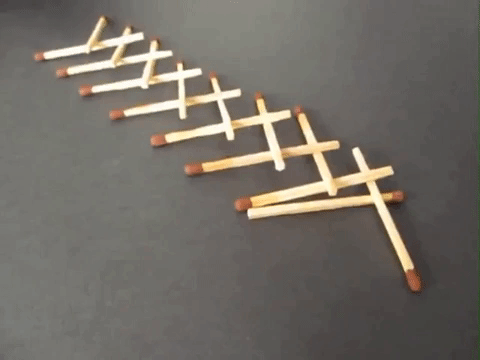 a word taken from Hindi which captures the meaning of finding a low-cost solution to any problem in an intelligent way
Frugal to Digital prototyping
Based on linkages, universal rod joints and angular joints
Jugaad Image source: http://www.arvindguptatoys.com